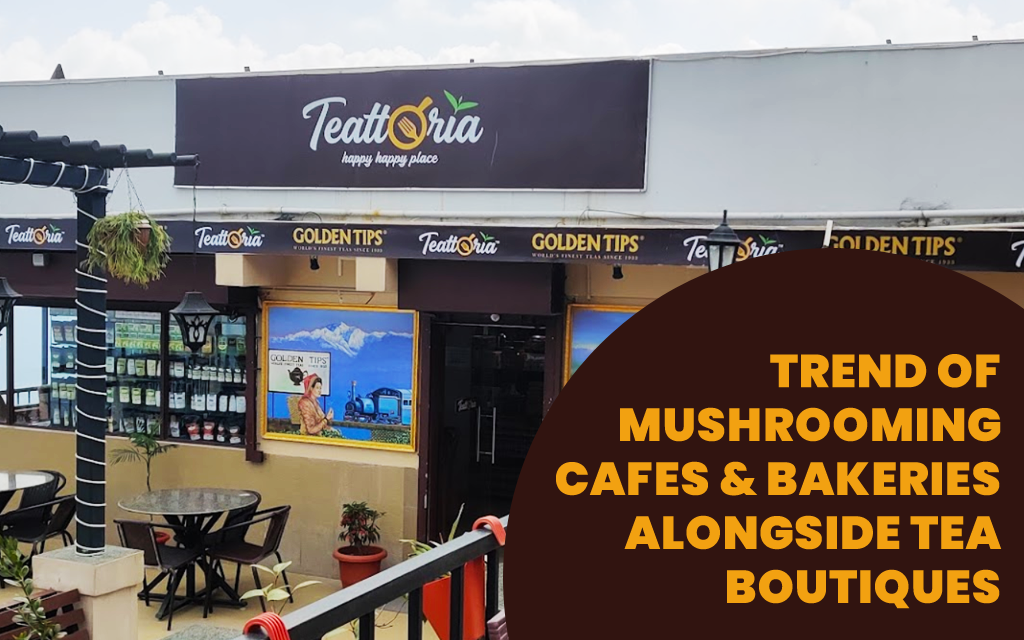 Trend of Mushrooming Cafes and Bakeries alongside Tea Boutiques
Tea is one of the most loved beverages in India and across the world. PM Modi's "tea connection" has caught the imagination of an entire generation. People have enjoyed tea since time immemorial and consider it to be one of the most cherished parts of their native culture. The love of Indian audiences for this super beverage has given the tea industry a loyal customer base in the country.
According to expertmarketresearch.com, the Indian tea industry is expected to grow at a CAGR of about 4.2% in the 2021-26 period and reach an approximate valuation of 1.40 million tonnes by the end of this period.
Like a bolt from the blue, the Covid pandemic has changed the world forever. A new normal has emerged in almost every aspect of life. This has resulted in tea retail brands to tweak their business strategy and start opening bakeries and cafes alongside their boutiques to cater to popular demand. Not surprisingly, branded tea cafes are frothing up across India's cities, as an upgrade to the ubiquitous CHAI stalls.
These cafes are located either adjacent to, or within the tea boutiques themselves. They are offering specialized tea mocktails and snacks like cookies, macarons and sandwiches to guests along with premium teas. This combination is a hugely popular concept brewing all over India.
As per a study by Numr Research, about 443 million Indian millennials spend more than Rs 4,000 on their wellness and experiential activities every month. They form the largest group of consumers who will drive consumer demand and result in economic growth in the next decade. They are in fact, accentuating this trend of opening tea bars alongside tea boutiques.
Earlier, tea stalls were a common sight across India, but they were fragmented and unorganised. Tea café chains like the one started by Golden Tips are emerging across India and giving consumers a midway option between at-home consumption and the humble roadside stall. These tea cafes offer a comfortable alternative as against roadside tea vendors and which provide people a more relaxed setting, with proper seating and snacks.
Another narrative worth a thought is that coffee is not a common man's beverage in India and which allowed cafés to position coffee as trendy and as a consequence of which, coffee outlets became aspirational places. They offered a chic ambience, with an assortment of beverages, snacks along with free wi-fi, and thus became hangout areas for college going crowds and young professionals. Tea companies tried to copy this model, but initially it did not take off since tea is a common man's drink in India. As a result, tea brands quickly moved towards enhancing the overall tea-drinking experience for the customer by opening plush tea bars.
 More importantly, they have positioned themselves as casual Vis-à-vis coffee shops' sophistication, encouraging customers to make multiple visits a day in contrast to coffee chains. This is in line with how tea is seen in India – as a people's drink consumed - sweet, milky or even without milk - several times a day.
Post Covid, this homage to Indian roots is mainly what tea companies are bringing to the table in a contemporary setting. This shift in strategy appears to be paying off for the tea brands. Providing more varied options than coffee chains at lower price, goes a long way in appealing to consumers, especially experience-hungry millennials.
For example, a cup of MASALA CHAI at Golden Tips tea bar is priced at INR 80 with complimentary cookies as well, whilst the cheapest coffee at Starbucks could set you off by INR 200 or more. Targeting Millennials is not surprising, since almost a third of the country's population is in the 15- 35 age group, who are also likely to share their experiences on social media and other platforms.
Meanwhile, personalisation is a major selling point for Golden Tips tea bars. Customers can choose from our eclectic variety of teas and a range of herbs and spices at reasonable rates. With these options of customising their tea, patrons can conjure up a cuppa that appeals to their palate and preference.
This highlights the need for brands to constantly reinvent themselves to reach out to newer customers, not only with product innovations but also with formats that cater to changing times and needs. This can go a long way in acquiring new audiences without alienating traditional brand loyalists.
Madhav Sarda is the expert tea taster and managing director of tea retail brand Golden Tips Tea