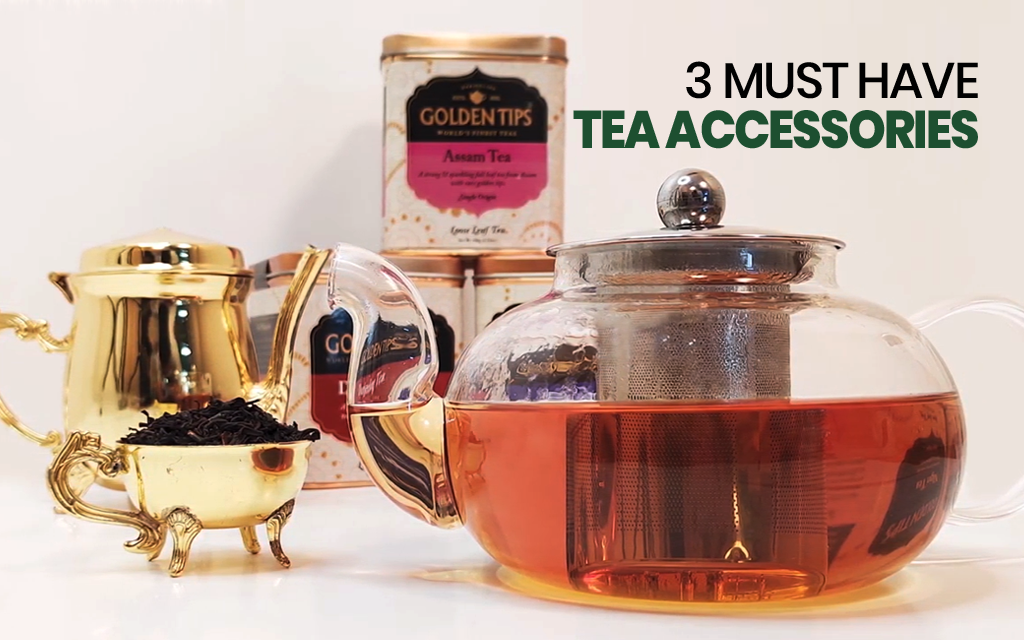 3 Must-Have Tea Accessories
A cup of tea can be useful in more ways than one. You can use it to:
Increase your antioxidant intake
Detox
Warm-up
Wind down
Get to sleep
To get the most nutritional benefits, you have to focus on improving your tea time. Tea accessories would be quite useful in that regard. For that, Golden Tea Tips has introduced a host of accessories for tea lovers to enjoy. So, how can they make your tea time more pleasant? Let's find out.
Glass Tea Pot with Spout Fine Steel Mesh Infuser & Lid
If you drink more than one cup of tea and dislike going back to the kitchen for a refill, a teapot is worth considering.
Once you get a teapot, you will realize that tea tastes better in it due to its size. If you add milk to a cup, the fat in it emulsifies in a certain way that results in a creamier-than-usual flavour. For premium teas, taken mostly without milk, the teas steep much better in a teapot, so much that you will feel the difference in your first sip.
With a preheated teapot, you can maintain the water temperature for more extended periods, enhancing brewing. Moreover, a teapot can come in handy for your social gatherings. If your social circle consists of tea lovers, a teapot will be an excellent addition to your kitchen.
For starters, you can go with this glass teapot. It includes the following features:
Made of glass with a stunning transparent design.
It comes with a high-quality steel tea infuser.
Comes with a threaded lid that helps to prevent spillover and keeps the tea warm.
The teapot comes with a capacity of 800 ml.
Glass Mug & Steel Lid & Fine Steel Mesh Infuser
If this is your first time reading about tea infusers, then you are in for a real treat. When the tea is brewed directly from tea leaves, it tends to produce more flavour than tea brewed from pre-packaged tea bags. You can fill infusers with your preferred tea leaves, place them in a cup of hot water, and wait for the tea flavours to "infuse" into the water. The end result is a beverage full of enticing flavours.
Do you want a user-friendly infuser? How about getting a glass mug & steel lid & fine steel mesh infuser? It includes the following:
Made of glass with a see-through transparent design.
A high-quality and fine steel tea infuser that lets you make the most of the tempting flavours of loose leaf teas.
Provides a user-friendly method to make tea.
Comes with a lid that helps to keep the tea warm.
Offers a capacity of 450 ml.
Glass Mug with Threaded Steel Lid & Steel Strainer
Glass mug with tea strainers are another wonderful tea accessory that would improve your tea time. They are small in size, so you can fit them over a cup, and are often made of stainless steel. You can brew tea in any vessel of your choice and strain out the leaves while pouring the tea in a cup with strainers. Some forms of strainers are multi-purpose. That means you can also use them as an infuser by placing them inside the cup or teapot during the brews.
Here's a strainer that not only works well but has a great design too. It comes with the following features:
It is made of glass with a 100% see-through transparent design.
It contains a high-quality and fine steel tea strainer, along with a threaded steel round lid.
Offers a capacity of 320 ml.
Final Thoughts
Tea is a terrific beverage to share or enjoy alone. Either way, you can enjoy it more by getting these must-have tea accessories.
Do you want to take a look at more tea accessories? Check out here.