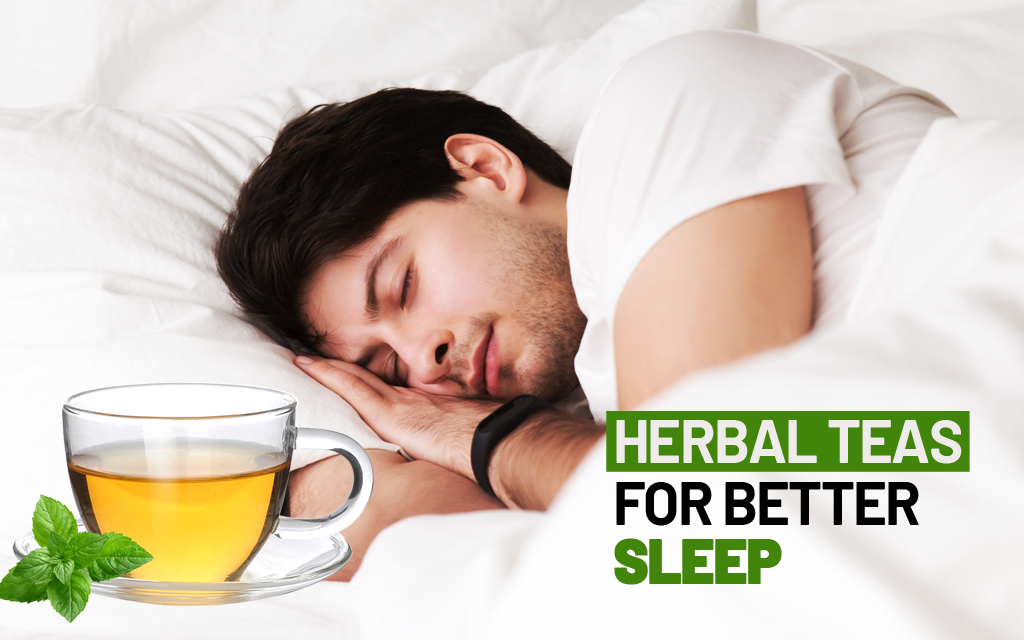 Bedtime Teas for Better Sleep
You may not know this, but there are several types of teas that can help you sleep better at night. It may sound odd, considering that tea contains caffeine, but there are teas with low caffeine that can often help with sleep.
They are soothing and can help you relax, unwind, and slow down after a full day. Many herbal teas have been used as remedies for sleeping for centuries simply because they can help prevent anxiety, stress, and sleeplessness.
Today, we will discuss some of these "bedtime" teas in detail, so you have a better understanding of what they are and how they can help you sleep.
Bedtime Teas for Better Sleep
Here are some excellent teas for better sleep.
Green Tea
You may have already heard some of the numerous health benefits of green tea, as it is the most popular healthy tea today.
Studies suggest that drinking green tea with low caffeine can improve the quality of your sleep, reduce weariness, fatigue, and lower stress levels compared to drinking regular caffeinated green tea.
A fairly recent study from 2017 also suggests that elderly people who drink low-caffeine green tea improve their quality of sleep through suppression of stress.
This Jasmine Green Tea is a perfect example of a low-caffeine green tea, which is also great-tasting and aromatic.
Earl Grey Green Tea - Tin Can

View Price
Darjeeling Loose Leaf Green Tea
View Price
Green Tea - Tin Can

View Price
Chamomile Tea
Chamomile tea is widely considered to be one of the most delicate and floral-tasting herbal teas in the tea industry. While there aren't as many conclusive studies to show its numerous benefits as there are for green tea, it is still one of the more beneficial bedtime teas in herbal and homeopathic medicine.
It is made from the chamomile plant, which has been well-known throughout history for its sedative nature that helps promote better, healthy sleep. People used to ingest chamomile as a sedative, and it is also used topically for healing.
This bedtime tea contains a highly effective antioxidant, apigenin, which works as an excellent anti-inflammatory and muscle relaxant, among many other beneficial things. Around a dozen studies were reviewed to show that chamomile safely improves sleep and anxiety.
However, more research is still required, especially on herbal teas like chamomile, which are scientifically neglected mostly because of the greater popularity of teas like green tea. Here is an excellent chamomile tea that can help improve the quality of your sleep.
Chamomile Green Tea
The delicate taste and exquisite blend of Green Tea is ideally complimented by the fine aroma of natural Chamomile. This combination has a fruit-like flavor similar to apple and besides being delicious, has a number of valuable therapeutic properties.
Lavender Tea
For better sleep, lavender tea has perhaps the best, most distinctive color and aroma. This vibrant, purple-colored bedtime tea is a soothing option, and most people are already aware of the relaxation benefits of lavender itself.
Research also points to similar conclusions. For example, this study showed how women who drank one cup of lavender tea each day after giving birth experienced less fatigue and depression. It is a great bedtime tea that can help you relax, reduce anxiety, and improve the quality of your sleep.
However, similar to chamomile tea, more research is required for a more detailed overview of the benefits of lavender tea. In the meantime, you can try this incredibly soothing and aromatic Herbyoga Lavender Mint Green Tea to help you sleep better.
Herbyoga - Lavender Mint Green Tea
Lavender and mint are the oldest herbs. These have been blended here with fresh anti-oxidant-rich Green Tea, Lavender has a calm and soothing component, and drinking it before bedtime can help alleviate stress, anxiety, and headache Mint too has medicinal properties. it helps boost digestion and keep breath fresh for long.
Conclusion
Not only are such herbal bedtime teas good for helping you sleep, creating a habit of having light tea in the evenings can help your brain recognize that it's time to unwind and relax for sleep. Even the soothing aromas and warmth of bedtime teas can help you get in the mood for bed.
Just remember that teas are not sleeping aids or the cure-all solution for anxiety, depression, insomnia, or sleeplessness. They simply help promote healthy antioxidants and bodily functions that may help with such ailments.
If you want to learn more about bedtime teas, any of the mentioned teas for better sleep, or about other types of teas and their benefits, please visit our herbal teas collection today.