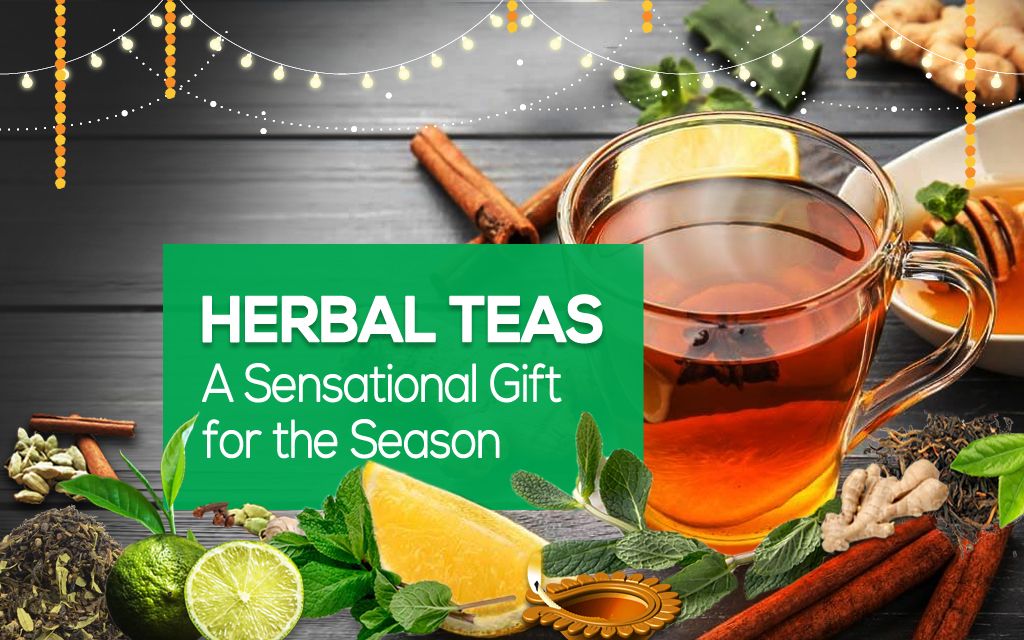 Herbal Teas – A Sensational Gift for the Season
Discover the sense of taste and aroma with premium herbal tea blends. It is the perfect cup of tea that provides respite from the glistening heat of the sun in summer and warms you up in winter. You can consume herbal tea throughout the year and enjoy the full range of its flavour in any temperature.
Herbal teas are not from the tea plant known as the Camellia Sinensis plant. Think of herbal tea as a collection of dried flowers, herbs, fruits, and spices. The result is a diverse combination of flavours with its distinct taste and numerous health benefits. The world started losing its taste for herbal teas, but the trend has revived, and you will find newfound favour for herbal teas around the globe. Unlike standard black or herbal green tea is caffeine-free and features vitamins, nutrients, antioxidants, and minerals that vary based on the herbal blend.
Most people use herbal tea for reducing pain, relaxing, and improving their body systems like the digestive and immune systems. Research has shown that herbal tea with polyphenols having anticancer properties is suitable for people with type-II diabetes.
Benefits of Herbal Teas
Herbal tea helps you unwind and relax. Ancient civilizations have been using it for centuries to unwind after a long day at work. People prefer consuming over-the-counter medicines to cope with stress and pressures of work, but they have several side effects. For this is one area where herbal teas can prove beneficial by providing a natural and safer alternative to prescription medicines and relieve anxiety and stress.
The relaxing properties of herbal teas can help in sleep disorders such as restless sleep and insomnia. Millions of people suffering from sleep disorders can finally get a good night's sleep by brewing their cup of herbal tea. Golden Tips Tea provides the finest selection of herbal teas in different packs and sizes that offer healthy, natural properties to help you sleep and rest better.
Herbal tea can boost your immune system, thanks in part to its antibacterial and antifungal properties. The medicinal properties of herbal tea mean you can get relief from flu symptoms sooner rather than later.
Pain is still poorly understood by scientists and is often treated using drugs that come with a slew of adverse side effects. Herbal tea has properties that can relieve pain without its harmful side effects. The extent of pain-relieving properties largely depends on the blend of herbal tea and its ingredients. Make sure to consult with your physician if you intend to take herbal tea specifically for pain medication.
Most herbal tea blends have high amounts of antioxidants that fight free radicals throughout the body.
Become a well-known tea connoisseur among your friends by brewing them the perfect cup of herbal teas this festive season. Before long, you will be famous for your excellent choice of beverages. Surprise your tea aficionado friends with an array of delicious and healthy herbal tea gifts that fit every mood. Your friends will think of you each time they brew that perfect blend of herbal tea.
Checkout Golden Tips Tea range of herbal teas and start growing your collection of herbal tea.