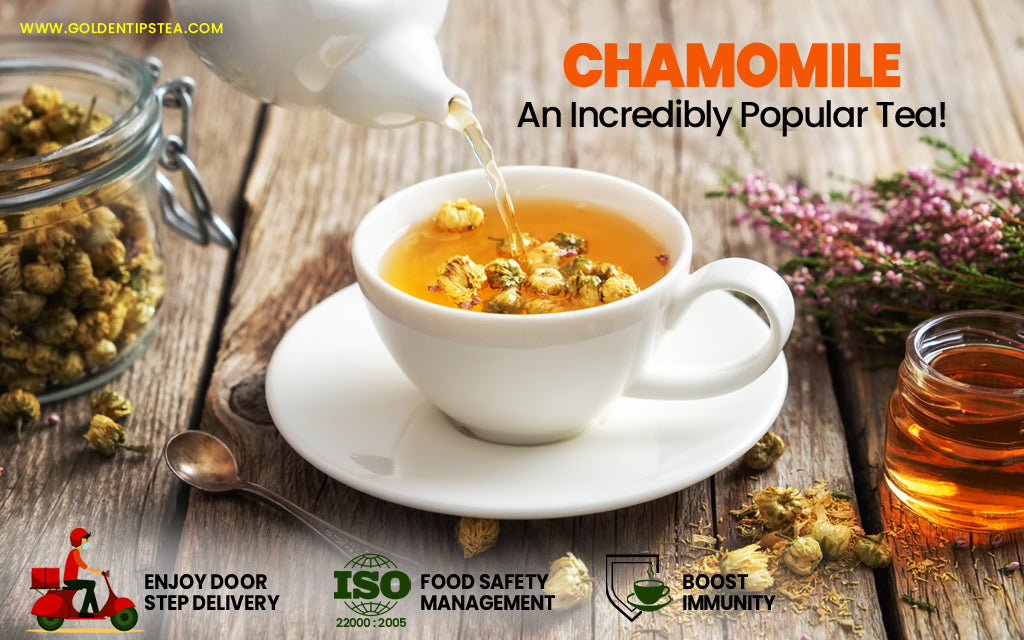 Chamomile Tea – For Your Health
Chamomile tea needs no introduction, but we're more than happy to provide it with the recognition it rightfully deserves.
Chamomile tea is brewed from the chamomile plant, which produces flowers that resemble daisies. The name "chamomile" was derived from a Greek word that translates to "ground apple", which would be an accurate description for the subtle flavour that chamomile tea is best known for.
Chamomile tea's taste conveys gentle notes of apple with a mellow honey-like sweetness. It is delicate and floral in aroma, with a silky mouthfeel.
The tea is categorized as a herbal tea due to the variety of health benefits it provides. It has been traditionally used to treat wounds, ulcers, eczema, gout, skin irritations, bruises, burns, canker sores, and many other ailments.
Some everyday benefits of drinking Chamomile tea are:
Improved sleep: Chamomile tea is used as a sleeping aid due to its relaxing and soothing characteristics that make it a suitable drink for the night time.
Lower blood sugar: Some studies have found that chamomile tea can lower blood glucose levels, and may help prevent the development of diabetic complications such as loss of vision, nerve damage, and kidney damage.
Stomach ailment reduction: Chamomile can soothe stomach aches and reduces symptoms of irritable bowel syndrome. It is also believed to assist with the digestion process.
Menstrual pain reduction: Studies have found that chamomile tea can reduce the severity of menstrual cramps. Women who have consumed chamomile tea regularly also report less anxiety and pain associated with menstrual cramps.
Inflammation reduction: Chamomile tea also contains oils that possess anti-inflammatory properties.
Chamomile FAQs
Q: Is it good to drink chamomile tea before bed?
Chamomile tea is regarded as a mild tranquillizer and sleep inducer. It should be consumed 30 minutes before bed to improve the quality of your sleep.
Q: Does chamomile tea help with weight loss?
Chamomile tea may not directly contribute to weight loss; however, its calming properties could benefit people who overeat in times of stress by reducing their urge to stress-eat. Liquids are also natural appetite suppressors.
Q: How can I boost the benefits of chamomile tea?
Chamomile leaves can be blended with other varieties of tea to widen its range of benefits. Blending chamomile with green or black tea can produce a tea that is higher in the amino acid L-theanine, which has benefits such as improved immunity and stress-relief.
If you're interested in trying some health-boosting variations of Chamomile tea, Golden Tips Tea offers some wonderful blends that are sure to pique your interest. Some of these include:
Rose Chamomile Black Tea: A blend of golden Chamomile Blossoms, Rose Petals and Black Tea.
Butterfly Pea Flower Herbal Tea/Empyrean Azure Green Tea: A combination of Pea Butterfly, Chamomile, Lemongrass, Moringa, Sea Buckthorn and Rose Petals blended with Green Tea. The tea possesses a distinct floral aroma with sweet vegetal notes. Did we mention that it's BLUE?
Mountain Gallop Seabuckthorn Green Tea: A combination of Sea Buckthorn and Chamomile blended with Green Tea.
Check out more exciting Chamomile tea blends and order for your cup of joy & health.