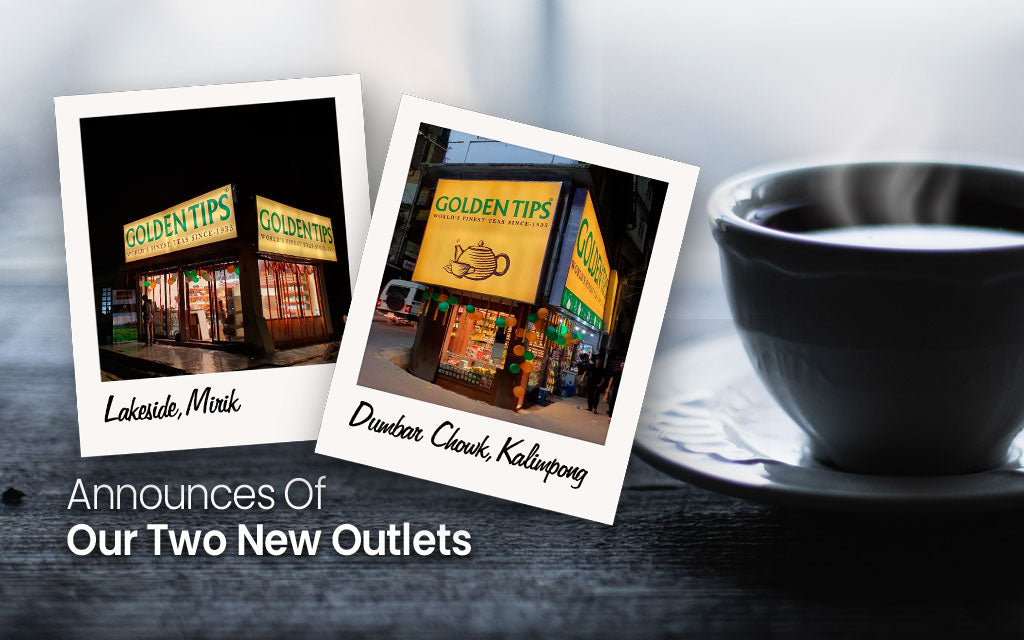 Announcement Post for Two New Golden Tips Tea Outlets
Tea lovers living & travelling in Kalimpong and Mirik can now restock on their favorite blends of teas thanks to two new Golden Tips Tea outlets that have recently sprung up in the bustling hill stations.
Golden Tips Tea is one of the well-known tea companies in India known for its gourmet teas. The family business started in 1933, and the business survived India's independence and the turbulent political period that followed soon after. It is now among the leading tea merchants in the world. Among its special varieties of teas include Darjeeling (all three flushes), green tea (all blends), herbal tea, masala chai, Oolong tea , and the list just goes on.
The two new outlets in Kalimpong and Mirik cater to the needs of locals and tourists alike. As the demand for high-quality tea increases, Golden Tips Tea rises to the challenge of keeping tea connoisseurs happy.
About Kalimpong Tea Showroom
Golden Tips Tea is proud to launch its Kalimpong outlet in West Bengal. Kalimpong tea store is located at a 50-minute driving distance from Darjeeling. A quick drive around the hills will reveal panoramic views of flowering plantations, mosses, and ferns. Kalimpong is home to over 4000 flowering plants and nearly 400 orchids. The hill station has an altitude of over 4100 ft with mild weather that stays pleasant throughout the year.
If you ever happen to tour Kalimpong, make sure to drop by the Golden Tips Tea store to check out some of the best-selling tea in the region.
About Mirik Tea Showroom
Key highlights of both outlets include a collection of tea blends from around the world that shoppers can mix and match. We encourage customers to explore the different varieties of teas. Both Golden Tips Tea outlets offer an intuitive experience to help customers discover new tea combinations.
Each outlet will provide the company with a fresh perspective on retailing specialty tea blends to help tea connoisseurs.
About Golden Tips Tea
Golden Tips Tea is a leading retailer that provides beneficial and delicious beverages on a global scale. Explore our premium, diligently-researched, flavorful tea blends with amazing health effects on the human body. We source our tea from premium tea artisans who know the ins and outs of their craft. Explore the different sensations and flavors with Golden Tips Tea.
Click here to choose from the largest range of teas in the world or come say hello to our staff members in Kalimpong and Mirik.