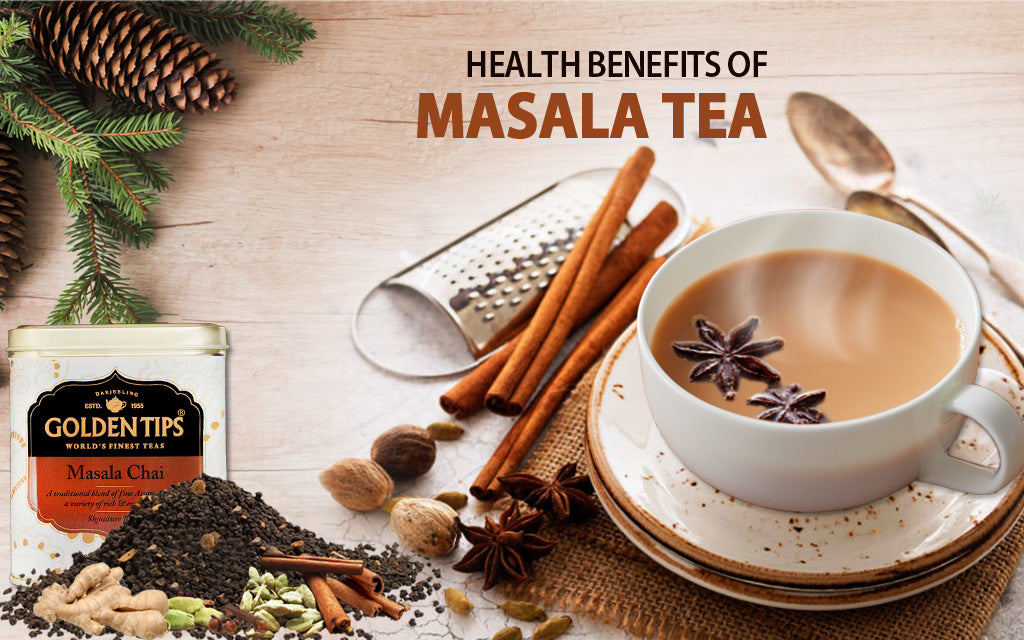 Top 6 Health Benefits of Masala Tea
Masala tea is extremely popular in India, owing to its taste and aroma. It is widely believed that the perfect cup of masala tea can prevent various kinds of illnesses and keep you healthy. Masala tea is a mixture of several ingredients, including cardamom, ginger, cinnamon, black pepper, and cinnamon. Every manufacturer and tea connoisseur will have its blend of ingredients for masala tea, which means that no two cups of masala chai will be the same. That being said, the essential ingredients remain much the same.
What Are the Health Benefits of Masala Tea?
1. Reduces Inflammation
Many spices are used in the making of this beverage, commonly called masala chai, with the most prominent one being ginger. As a result, masala tea has strong anti-inflammatory properties. Researchers have established the positive impact of ginger on the human body. Another ingredient used in masala tea is clove. It is widely used as a painkiller because it reduces inflammation.
2. Boosts Immunity
Masala tea is good for the immune system since it contains cinnamon and clove. When used together, the two compounds enhance each other's medicinal effect. Their synergistic role creates a line of defense that does not allow infections to weaken the immune system. One can argue that masala tea has a medicinal quality to it.
3. Aids Digestion
The ingredients used in masala tea, including elaichi, tulsi, and clove, help in the digestive process. When you add ginger into the mixture, the effect becomes even more profound. It has a refreshing and calming effect on the body. If you are struggling with digestion, make sure to drink masala tea with elaichi since it increases the production of saliva.
4. Contains Antioxidants
Black tea is the basic ingredient of masala tea, and it has powerful anti-oxidizing properties. The use of clove and elaichi in the drink naturally fight high cholesterol levels. This, in turn, reduces the formation of plaques that cause blockages leading to cardiovascular disease. The ingredients in masala tea keep the blood pressure and heart rate in control.
Masala Chai India's Authentic Spiced Tea - Value Pack
An age-old classic, Masala Chai, literally meaning 'Spiced Tea'.....
View Price
Assam Kadak Chai, Spicy Masala Tea Blend
This unique & ancient preparation contains a strong flavoury......
View Price
Premium CTC Tea
Finish CTC Tea from the sub-Himalayan regions of eastern India.....
View Price
5. Prevents Cancer
A growing body of research has shown that the strong anti-oxidizing properties of masala tea can prevent cancer. Studies on cinnamon, ginger, and cardamom all prove they can prevent cancer. For further reading on this topic, check out this journal.
6. Increases Your Energy Levels
The basic ingredient of all types of masala tea is black tea, which contains high amounts of caffeine. Studies have shown that caffeine naturally boosts one's energy levels. While caffeine does have a few side effects, other spices in masala tea work together to balance them out. The strong flavor of masala tea, along with its strong dose of caffeine, will give you just the kick you need to start your day on a positive note.
Related articles on Masala Tea:
It is a healthy and natural stimulant that you can drink without any side effects.
Golden Tips Tea gives you access to delicious masala chai that play a positive role in your immune system. Click here to buy premium masala chai!
Frequently Asked Questions
What are the benefits of Indian masala tea?
Indian masala tea helps boost immunity, aid digestion, prevent cancer, increase energy, reduce inflammation, and contains plenty of detoxifying antioxidants.
Is Masala tea good for your health?
Yes, masala tea is good for your health, primarily because of its rich antioxidant content and ability to prevent certain diseases and boost immunity.
Which one is healthier, masala tea or coffee?
Masala tea is much healthier than coffee because of its antioxidant properties, lower caffeine content, and other health benefits like boosting immunity. However, coffee can be healthy too, but only if taken in moderation.
What is the difference between masala chai and chai tea?
Masala Chai translates to "spiced tea," whereas Chai Tea translates to "tea tea" since the word "chai" means tea in the Hindi language. Chai is a common name and contains CTC black tea leaves, whereas Massala Chai is infused with many natural herbs and spices, so most people confuse Chai as Masala Chai.
What health benefits do the antioxidants in tea have?
The dominant antioxidants in tea are Polyphenols, which help reduce the risk of cardiovascular disease, including stroke. Other antioxidants like tea flavonoids may help with high blood pressure because they may help maintain the elasticity and smoothness of the lining of blood vessels.
What herbs and spices in masala tea boost immunity?
Herbs and spices like Cinnamon, Green Cardamom, Dry Ginger, Black Pepper, Long Pepper, Cloves, Bay Leaves are known to help boost immunity.
How can chai tea improve your health?
Chai Tea can help improve your health because of its rich antioxidant content and ability to boost immunity and prevent the risk of cardiovascular diseases like stroke. Moreover, Chai Tea can help fight colds, reduce inflammation, improve digestion and the quality of your skin.
Is it OK to drink chai tea every day?
Yes, it is OK to drink chai tea every day. It contains more Polyphenols (antioxidants) than most fruits and vegetables, which helps reduce the risk of cardiovascular diseases and protect cell health, among many other health benefits.