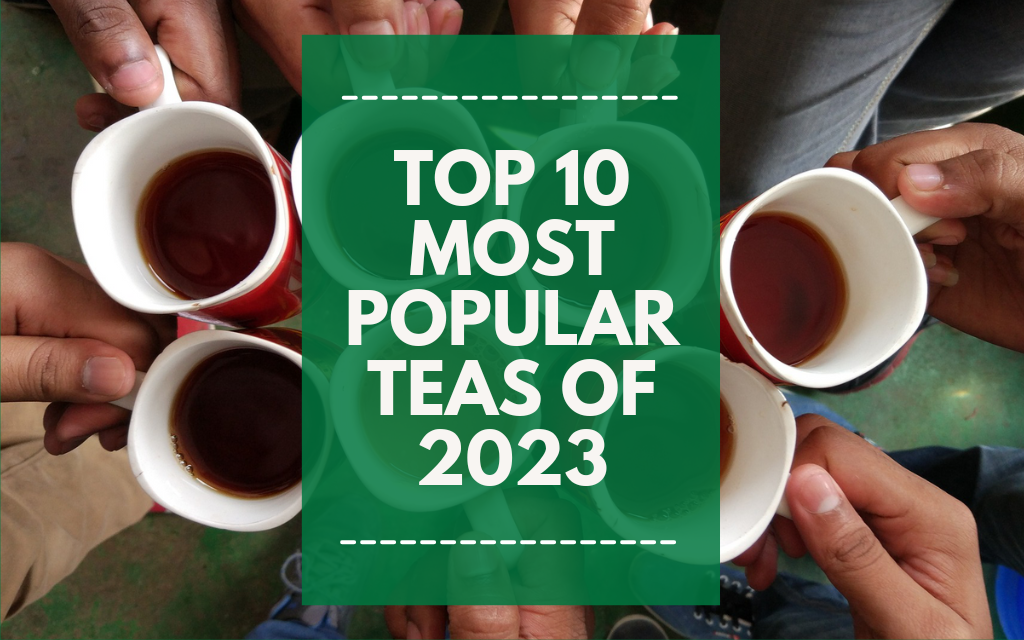 Top 10 Most Popular Teas of 2023
A day is not complete without a refreshing cup of tea! It allows you to slow down, take a breath from the chaos of the day, and enjoy a delicious blend of flavors and aromas. Tea is not only a refreshing beverage but also offers multiple health benefits. 
From traditional blends that have stood the test of time to innovative infusions that spark curiosity, this year's tea trends offer something for every palate.  
This blog covers some of the best herbal teas you need to try this summer, so read on to find out! 
Here are the Best Premium Teas of 2023:
1.Masala Chai 
No top teas in 2023 list can be complete without masala chai. This spiced black tea boosts the warmth of Indian tradition and has become a global favorite. The robust blend of black tea leaves with aromatic spices like cinnamon, cardamom, cloves, and ginger creates a rich, flavorful, invigorating, and comforting cup. 
2. Premium CTC Tea 
CTC Tea is known for its strong and bold character, along with its consistent taste and quick brewing time. Ideal for mornings or as a pick-me-up during the day, CTC tea offers a powerful and brisk cup that stands strong with milk and sugar. 
3. Darjeeling Tea 
With a hint of fruity notes, Darjeeling Tea hails from the picturesque Darjeeling region in India.Darjeeling is also referred to as the "Champagne of Teas." The high-altitude plantations produce a delicate, floral, and smooth-flavored tea that captivates tea lovers worldwide. 
4. Saffron Cardamom Tea 
Saffron Cardamom Tea is an exotic blend that combines the richness of saffron with the comforting aroma of cardamom. This luxurious infusion offers a symphony of flavors that delights the senses. 
5. Ginger Mastea 
Ginger Mastea, a playful wordplay on "master tea," pays tribute to ginger's zesty and invigorating qualities. This tea infuses the warmth of ginger with a soothing base, providing a revitalizing experience. 
6. Earl Grey Tea 
A timeless classic, Earl Grey Tea continues to enchant tea lovers with its distinctive bergamot flavor. The aromatic citrus notes elevate the black tea, offering a refined and elegant tea-drinking experience. 
7. Chamomile Green Tea 
Blending the goodness of green tea with the calming qualities of chamomile flowers, Chamomile Green Tea soothes the soul and relaxes the mind. This harmonious fusion with fruit-like flavor is cherished for its delicate and refreshing taste. 
8. Earl Grey Spice Black Tea 
Earl Grey Spice Black Tea infuses the traditional Earl Grey with a delightful twist of spices with a bergamot oil scent. The combination of cinnamon, cloves, and other warming spices creates a well-rounded and comforting cup. 
9. Pure Green Tea 
Pure Green Tea is cherished for its fresh, grassy notes and antioxidant-rich profile. This non-fermented tea lets the natural beauty of the tea leaves shine through with every sip. Green tea also provides multiple health benefits thanks to its natural antioxidants. 
10. Empyrean Azure - Blue Tea Infusion 
Witness the captivating flavor of Empyrean Azure - Blue Tea Infusion, which combines Rose petals, Sea buckthorn, Moringa, Lemongrass, Chamomile, and Pea Butterfly. This mystical and visually stunning tea carries a delicate and vegetal sweet taste. 
A Delectable World of Flavors and Aromas at your Fingertips 
These best teas of 2023 present a mesmerizing tapestry of flavors, aromas, and experiences. Golden Tips Tea offers a diverse range of tea, from the aromatic spices of Masala Chai to the enchanting color-changing infusion of Empyrean Azure - Blue Tea Infusion. 
Sip, savor, and indulge in the timeless allure of our high-quality teas, as they continue to captivate hearts across the globe.