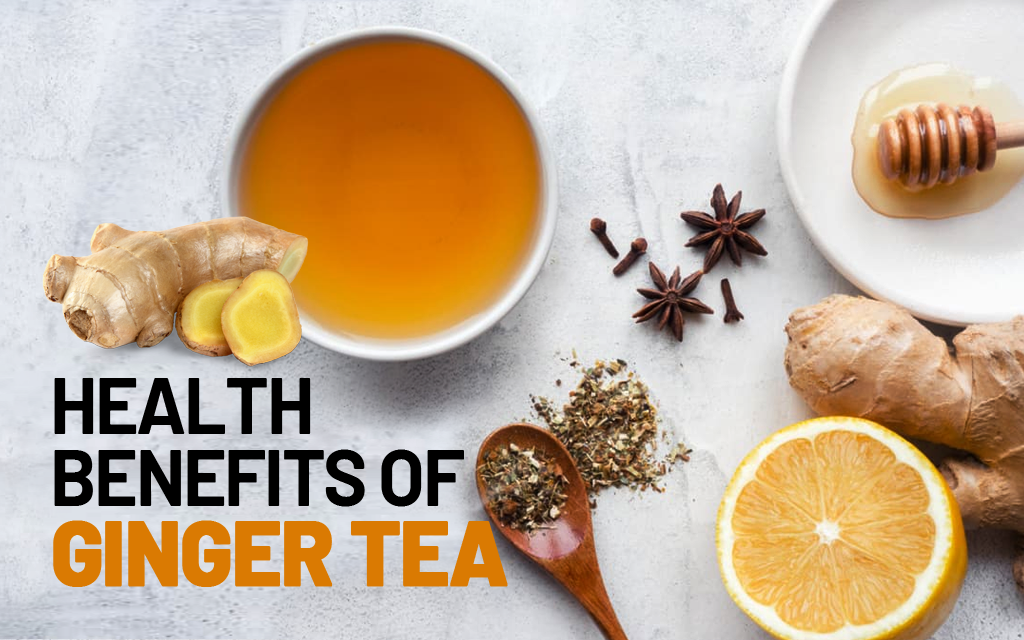 Top 5 Health Benefits of Ginger Tea
You may have heard about the countless health benefits of green tea, but have you heard about the benefits of ginger tea?
Today, we will dive deeper into some spicy ginger teas and discuss the top 5 benefits of this incredible tea.
Top 5 Health Benefits of Ginger Chai Tea
While there are plenty of ginger tea benefits, here are ginger tea's top 5 health benefits.
Helps Treat Chronic Indigestion and Stomach Discomforts
Indigestion is a common ailment and stomach discomfort that we have all experienced; however, chronic indigestion refers to the recurring discomfort and pain in your stomach. Many herbal and medical experts consider that most indigestion is caused by delays in bowel movement or emptying of the stomach.
This is where ginger can help because it is a natural remedy to speed up bowel movements and empty the stomach. This is a great health benefit of ginger tea that can relieve pain and discomfort in the stomach for many people, which is why it is in our top 5.
Reduces Menstrual Pain
Ginger has traditionally been used as a natural and herbal remedy for pain during menstrual cycles. While most women turn to medicine for pain relief, studies suggest that ginger can be just as effective. This means that drinking ginger tea might be a healthier, more natural remedy than harmful painkillers.
Reduces Osteoarthritis Pain and Disability
Osteoarthritis is the most common form of arthritis, where people experience degeneration in the joints of their body. This can result in stiffness and pain, often leading to disability.
A 2015 meta-analysis of randomized placebo-controlled trials found that Osteoarthritis patients who used ginger for treatment experienced a considerable reduction in their joint pains and disabilities from the disease.
These health benefits of ginger are more effective in people who experience Osteoarthritis pain in their knees. If you know someone with such problems or want to relieve yourself of such pain, ginger tea can be a great supplement that helps with the pain and disability.
Choices of Ginger Teas:
Ginger Mastea - Indian Masala Chai
View Price
Masala Chai India's Authentic Spiced Tea
View Price
Ginger CTC Black Tea
View Price
Helps With Weight Loss
A recent systematic review from 2019 stated that obese or overweight people supplemented with ginger saw a significant reduction in their weight, hip, and hip to waist ratio. There are also studies that suggest that this effect of ginger is more prominent in animals, like rats than in humans. This is likely because of ginger's ability to help reduce inflammation and increase the body's ability to burn calories. While more research is required, you can be fairly confident that ginger intake, such as drinking ginger tea, can positively affect your weight.
Treats Nausea
Nausea can be highly irritating and uncomfortable for most people. Turns out, that ginger is a highly effective fighter against nausea. A literature review of over 100 studies shows that ginger may help nausea and vomiting related to chemotherapy, post-surgery, and especially morning sickness in pregnant women.
If you are experiencing nausea or morning sickness, a cup of ginger tea may just be the best thing for you. This is another excellent health benefit of ginger tea that most people can benefit from, landing it on our list.
Conclusion
hese were just our selection of the top 5 health benefits of ginger tea, and there are plenty more, which we can discuss another time. For now, if you or a loved one have any of the mentioned ailments, it would be a good idea to read up on ginger tea benefits and start drinking some ginger tea.
If you want to learn more about the health benefits of ginger tea or some of the best tasting, aromatic, and healthy ginger teas, please visit chai teas varieties today.