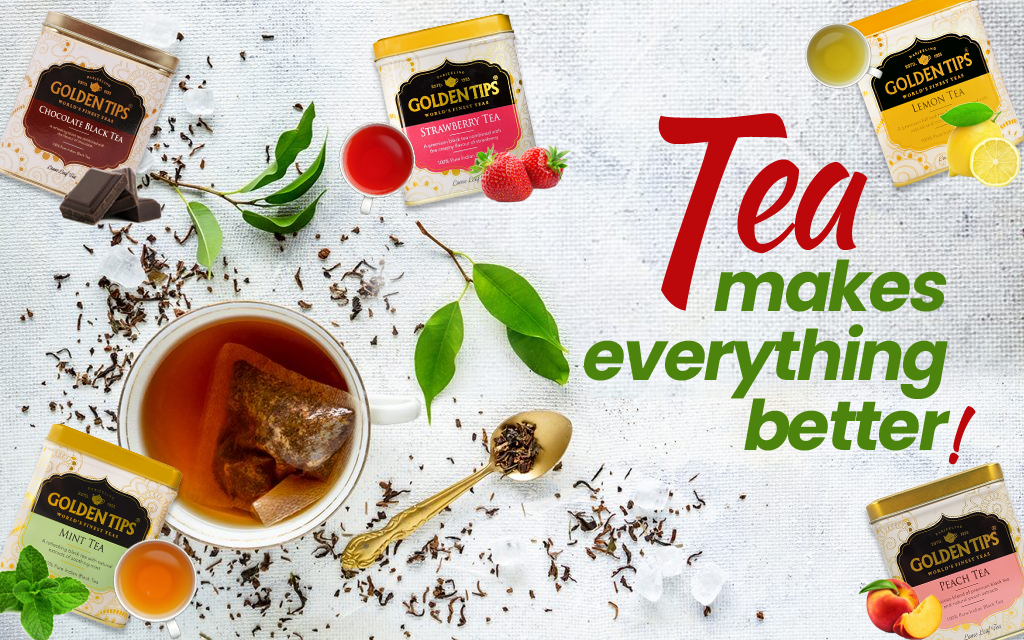 Flavour for every reason, best-flavoured teas you must try!
Tea makes everything better! But what if we can make the tea taste even better by adding natural flavours and create blends that refresh the whole tea drinking experience. Golden Tips proudly presents tea flavours for every reason; pick up the right one for you.
To help our patrons, we have compiled most frequently questions asked about flavoured teas.
Q: What is the second most popular flavour of tea?
The second most popular flavours for the tea consumed around the world is Lemon Tea
Q:How to infuse tea with different flavours?
The tea infusion with different flavours is a craft perfected by our tea masters over the decades, to experience the best-flavoured tea of your choice is to pick the few brands and find the best tea for your pallet.
Q: Does flavoured green tea have health benefits?
Yes, Green Tea has been shown to improve blood flow and lower cholesterol. WebMd reports that green tea helped prevent a range of heart-related issues, from high blood pressure to congestive heart failure. Additional Reading- Does Green Tea Work for weight loss?
Q: What's the best-iced tea flavour?
The topmost favourite for the best-iced teas is Lemon tea, Peach tea, Strawberry, Matcha Tea, and Mint tea. These teas are all tasty teas to have either hot or cold. Read Matcha Tea recipe with health benefits.
Q: Which flavour of green tea will you recommend?
Peach Green Tea: An invigorating combination of premium green tea and the sweet flavour of ripe peaches is the recommended green tea.
Q: Does fruit-flavoured herbal tea contain sugar?
Mostly the flavour teas do not contain any added sugar; it is recommended that one should always read tea labels for accurate information on ingredients.
Q: What is the best way to store tea to retain its flavour?
The best way to store tea is in an airtight container not much larger than the quantum of tea leaves; this is very important. Sometimes people store teas in larger jars, but as the quantity of tea leaves get consumed; the extra space allows the air & moisture within the closed jar.
Q: What flavours do you add to your tea?
Most common flavours people add to their daily teas are fresh lemon juice and natural honey.