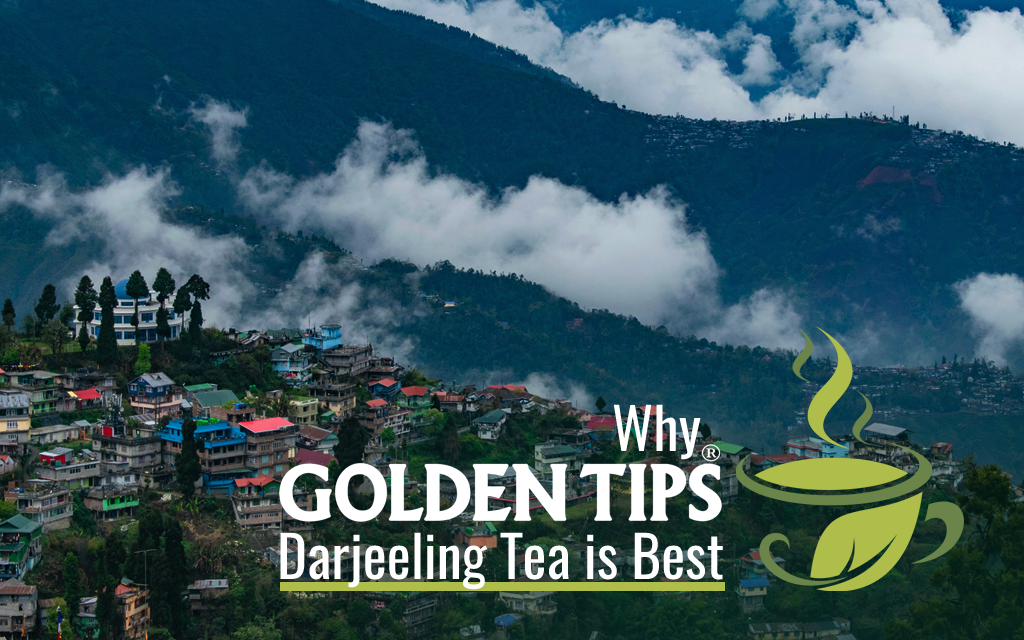 Why Golden Tips Darjeeling Tea Is Best
When it comes to tea, there is no better experience than drinking a warm cup of gourmet single estate Darjeeling loose leaf tea. However, unfortunately, rising global demand and market saturation has led many inferior, low-quality, or fake brands to penetrate the market.
This means that not every Darjeeling tea or other loose leaf tea you find in the market is high-quality or even authentic. Your best bet is to opt for a trusted company like Golden Tips for the most authentic and superior Darjeeling teas and other loose leaf teas.
Why Golden Tips Darjeeling Tea Is Best
Golden Tips was established in India in 1933, where it is still one of the oldest, most trusted, and reputable loose leaf tea brands. It is a tea brand that originates from Darjeeling, where the finest teas in the world are grown.
What started as a small tea business has since grown into a global retailer and wholesaler of the finest Darjeeling loose leaf teas, owned and operated by the 3rd generation of tea entrepreneurs. While Golden Tips has a rich history in the tea industry, it is not the only reason they provide the best Darjeeling tea.
Cultural Connection and Authenticity
Being established and based in Darjeeling, India, Golden Tips Tea has a strong heritage and bond with the centuries-old tea-drinking culture of India. While they ship loose leaf teas around the world, their tea is grown and cultivated only in India using the freshest, most authentic tea leaves.
Choice of Darjeeling Tea
Darjeeling Tea - Tin Can


View Price
Green Tea - Tin Can


View Price
Seasons Harvest Darjeeling Teas
View Price
Superior Quality
The greatest benefit of using authentic and fresh Darjeeling tea leaves is that Golden Tips Darjeeling tea offers unparallel quality. The quality of their Darjeeling tea is unquestionable, and you can test it yourself by studying the tea leaves for authenticity.
Of course, under the GI Act, only tea leaves farmed from one of the 87 tea estates in Darjeeling can be labeled as "Darjeeling tea." An easy way is to look for the exact name of the tea estate on the packaging. Authentic sellers always label the estate on the packaging: Arya, Dooteriah, Puttabong, Badamtan, Castleton, etc.
You can Google the estate name to verify its authenticity. However, unfortunately, fake brands can still copy this information, which is more common than you think.
ISO Certified
Golden Tips is also ISO certified for food safety management and one of the few companies awarded the ISO certification 22000.
Competitive Pricing
Despite the rich history, cultural connection, authenticity, and superior quality of Darjeeling loose leaf teas, Golden Tips offer competitive pricing to all its global customers. This is rare because most brands, even fake ones, overcharge for Darjeeling tea because they know they can take advantage of customers.
Authentic Darjeeling tea is limited in supply and has a high demand due to its superior taste, aroma, and quality. Most tea brands exploit these factors and overprice their products, even if the product is fake or the brand has no history or cultural connection with Darjeeling.
On the other hand, Golden Tips maintains fair and reasonable pricing for all their Darjeeling tea products. This is done purposely to remain competitive and maintain the market image and global reputation of Golden Tips as a trusted retailer of authentic, high-quality Darjeeling loose leaf teas.
Final Thoughts
Not every Darjeeling tea is authentic, and not every authentic Darjeeling tea is as fresh, high-quality, and competitively priced as Golden Tips Darjeeling tea. This, paired with the rich history and
If you want to learn more about why Golden Tips Darjeeling tea is best, or if you want to buy the most authentic, superior, and affordable Darjeeling loose leaf teas, please visit our website today.
How to Make Perfect Cup of Darjeeling Tea | Darjeeling Tea
Make a Perfect Way to Make a Cup of Darjeeling Tea: https://www.goldentipstea.in/blogs/all/how-to-make-the-perfect-cup-of-darjeeling-tea Available in countless varieties, such as black, green, and white tea, Darjeeling tea is a favorite among tea drinkers. Many call it the Champagne of Teas, owing to its taste's similarity to the Muscat wine. The Queen of Hills is another name that has made it well-known in tea-drinking circles. Due to its reputation, there is a growing interest among tea drinkers to add it to their lifestyle. However, when it comes to Darjeeling tea, you find many frustrated drinkers who have yet to drink a proper cup of tea – one that gets the right aroma and flavor of Darjeeling tea. There is a reason why this is a common complaint. Unlike some other tea types, making a perfect cup of Darjeeling tea is an art and a complete experience in itself. You must get an excellent & fresh batch of Darjeeling tea for starters to make sure it tastes delicious. For that, you can try from the wide variety of teas listed at our Darjeeling tea shop. @ https://www.goldentipstea.com/ To Make a Cup of Darjeeling Tea The best way to make a cup of tea is to use a cup that comes with an infuser or a single cup infuser. This way, you find it easy to make the perfect cup of Darjeeling tea – one that can taste amazingly well, leading your friends, family, or guests to compliment you for your tea-making skills. 1. Rinse the cup with hot water to warm it. 2. Put the tea infuser in the cup. 3. Add a tablespoon of tea into the infuser. 4. Pour freshly heated water. 5. Steep two times – for 3 and 5 minutes. 6. Take out the infuser. 7. You can now drink your tea. Additional Tips 1. Use filtered unflavoured water. 2. Brew the leaves longer if you are making a second cup of tea. 3. Don't steep Darjeeling tea leaves in boiling water. Steep it when it cools down a little. 4. Store Darjeeling teas in a dry, cool place in an airtight container to preserve its flavor and aroma. How to brew Golden Tips Darjeeling Teas? Each Darjeeling tea is slightly different from the other in taste & character. And that adds to its beauty and natural flavor. We supply information along with each batch of Darjeeling tea shipped with clear instructions on brewing the tea to benefit our passionate tea drinkers. You will find the instructions on taste, character, and liquor on our website. The method of brewing is detailed on the packet of tea that you will receive. Shop Now- www.goldentipstea.com/ For More Updates and Offers, Follow us on social media :- Facebook- https://www.facebook.com/goldentipstea Instagram- https://www.instagram.com/goldentipsindia/ LinkedIn- https://www.linkedin.com/company/goldentipstea Twitter- https://twitter.com/GoldenTipsTea #GoldenTipsTea​ #HowToMakeDarjeelingTea #DarjeelingTea