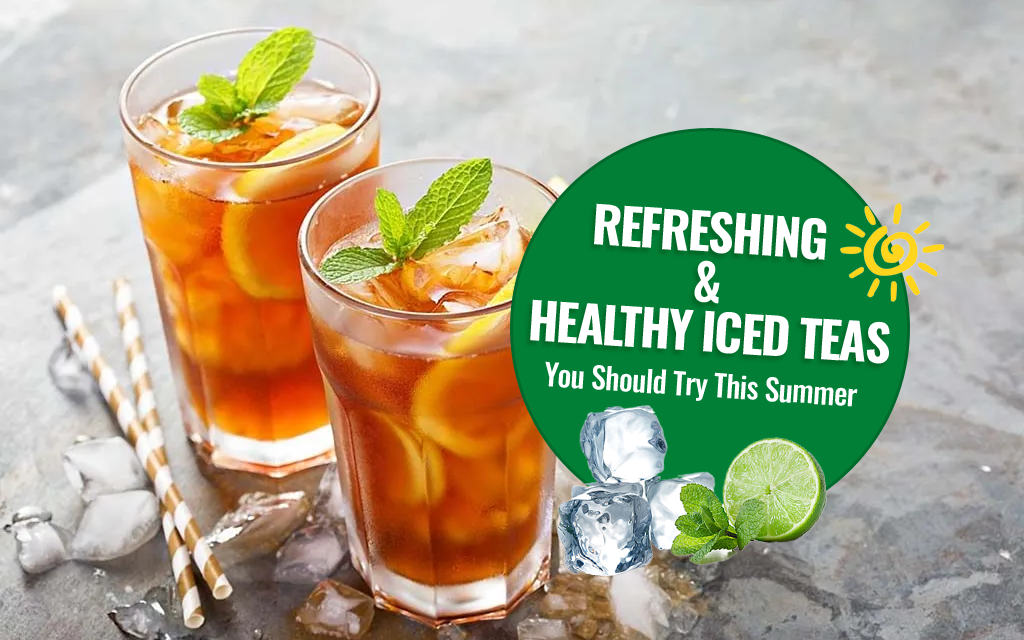 Refreshing & Healthy Iced Teas You Should Try This Summer
The season of long days, sunglasses, bright colors, beaches, heat, and humidity is here. Yes, we are in the middle of summer, and everyone is finding ways to combat the warm temperatures to relax during these hot summer days.
While there are several things you can combat the heat, perhaps the most fun and enjoyable is drinking iced teas.
Iced tea helps you cool down and feel fresh in the heat. Several health benefits of ice tea can be great for our bodies during summers.
Refreshing & Healthy Iced Teas You Should Try This Summer
Here is our list of refreshing and healthy iced teas you should try this summer.
Green Iced Tea
Green iced tea is perhaps the most popular category of ice tea. You can have it as is or make the most delicious and refreshing green iced tea by simply adding some ginger, ice, and sugar or honey. Green tea is rich in antioxidants, theanine, and polyphenols.
Drinking green tea promotes fat burning for weight loss and benefits the skin. It can also help prevent chronic diseases like cancer and heart disease. Whether it's hot or cold, drinking green tea can keep your mind sharp and relaxed. Having some green iced tea will cool your body during hot summers. Most importantly, it will help your body fight the harmful effects of UV rays from the hot sun.
Peach Iced Tea
You can enjoy several peach iced tea options. Our favorite is to add peaches, fresh basil, and maple syrup to loose-leaf black tea. You can also opt for honey for a similarly refreshing ice tea beverage.
Peach iced teas help keep your bones and teeth strong. They are great for the immune system, improve cardiac health, lower blood sugar, and also promote weight loss. The rich antioxidant content helps your body detoxify and remove free radicals from your system.
Mango Iced Tea
Mango ice tea made with dried mango leaves is perhaps the most exotic and fruity option on this list. Simply add some honey and a dash of lemon syrup for the most deliciously refreshing mango iced tea this summer.
It helps regulate insulin and blood sugar in the body for improved diabetes management. It may also improve your immune system, blood pressure, digestion, and stress levels, and lower the risk of chronic diseases.
Mint Iced Tea
Drinking cool mint iced tea this summer can refresh your body and mind. Adding a few fresh mint leaves, ginger, and honey makes the healthiest and most refreshing summer beverage you'll have. However, mint iced tea is so easy to make that there is plenty of room for experimenting with other ingredients.
It is excellent for cooling your body down, helps with digestion and upset stomachs, and relieves stress, tension, and headaches. It freshens your breath, combats bacterial infections, boosts energy, improves sleep, and also helps alleviate menstrual cramps.
Matcha Iced Tea
Rich in vitamins, fibers, and antioxidants, the natural sweet nuttiness and pleasant savory aftertaste of matcha iced tea is a must-try this summer. While we recommend simply adding ice, you can also add some milk and honey or vanilla syrup.
Matcha iced tea is a calorie-free beverage that can cool you down, making it a great option for weight loss. It improves your body's metabolism and fat-burning ability while enhancing your mood, calming the mind, and relaxing your body. Matcha ice tea naturally helps lower cholesterol and blood sugar and prevent chronic diseases.
Conclusion
Iced tea of any type is a great summer beverage, and you should certainly try the mentioned categories of ice tea. You don't need to add any ingredients other than ice. However, you can experiment with natural ingredients to make your refreshing iced tea healthier.
If you want to learn more about refreshing, healthy iced teas to try this summer or the best loose leaf teas for making iced teas, visit our website.